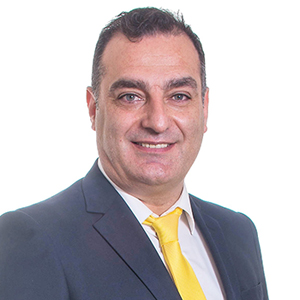 An icon in the real estate industry, with over 1,000 career sale transactions, making Talal El-Hassan one of the most respected and recognised agents in the Western Suburbs. Having lived and worked in the Western Suburbs for the past 31 years, his 'grass roots' knowledge of both the area and the local real estate market, combined with his high socio-status within his local community, make him one of the area's most talked about and influential real estate agents.
"My vendors' interests are paramount and exceeding their expectations in every way is my ultimate aim."
Motivated and with boundless energy and a shrewd negotiator, Talal El-Hassan measures personal success in terms of his ability to continually deliver outstanding results for all his clients comes naturally, whether they're buyers or sellers, and whether they are new clients or old. A multi award winning agent, he has a huge loyal clientele base that is continually growing daily through a referral network that forms the basis of his success.
"I get about 4 phone calls a day from clients who have been referred to me by a previous client, whether they're sellers or buyers. I have numerous buyers and investors who will only purchase a home from me – trust and honesty in this industry will ensure longevity and long lasting relationships. "
A Justice of the Peace (JP) and a Licensed Estate Agent (O.I.E.C – Principal), Talal is married with 5 kids and 2 grandchildren, a proud and loyal family man, he understands the importance of communication and family needs when selling or buying a home and is able to translate that vital intelligence to his clients.
"Real estate is about people, their expectations, hopes and happiness. It's a wonderful, challenging responsibility to be handled diligently and with understanding and respect."