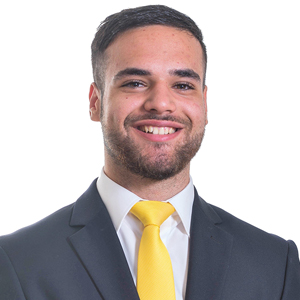 Born with the gift of effortless communication and an impassioned desire to succeed, Karl is a second generation real estate agent that has property running through his veins. Following in the footsteps of his father, Talal El-Hassan JP (Director), he is setting out on an exciting journey that will bring high reward to both himself and his clients. With real estate and property development being a regular topic at the dinner table, he has been brought up with the right ingredients to make his own name.
His youthful stamina is an asset in an industry where success is determined by persistence, resilience and honesty. In today's competitive market, these qualities are highly sought-after and admired for producing exceptional results and happy clients time and time again.
Karl was born, raised and educated in the West and prides himself on knowing the market like no other. He has undertaken training courses by elite professionals within the industry and joined Hunter French Real Estate to take advantage of its outstanding brand, reputation and market leadership.
To ensure your property gains maximum exposure by an agent you can trust, call Karl El-Hassan on 0401 19 16 13 today.