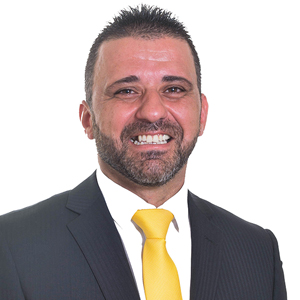 Moufid is a new age real estate agent with a wealth of 20 years' experience in both the Corporate travel and hospitality industry. Hunter French Real Estate is delighted to have Moufid join our successful team and is keen and ready to take your call today!
Entering the real estate industry with fresh ideas, he brings in a high level of energy, commitment and honesty. Specialising in both residential and business sales, his focus is achieving the best possible price for clients and providing a unique service to his community. Moufid believes that 'Real-Estate is not a numbers game, it's a service game'.
As an agent, Moufid has a broader perspective. He understands and appreciates the personal side of the real estate industry. 'Real Estate is much more than just buying and selling. It's quality of life'. Moufid sees his profession as a way to give back to the local community, and the people who call it home.
Moufid, helps his business and residential clients narrow down the market, by analysing recent sales in the area to ensure 'I achieve the highest possible price for my vendors'. Moufid works closely with his clients through every step of the selling process, providing a transparent and feedback method that is second to none.
When not assisting clients, Moufid enjoys spending valuable time with his wife and 3 kids. Like any other family, they enjoy traveling, bike riding, swimming and fishing.
A shrewd negotiator with a strong worth ethic and his sheer passion and will to help his clients, Moufid will be an outstanding advocate for you.
'My goal is to achieve the absolute best service and price for my vendors and will leave no stone unturned in my quest to achieve that goal.'
" I am delighted to be working with the leading agency in the area who pride themselves on service and commitment"
For Sale
Busy fruit & Veg shop in Hoppers Crossing
For Sale
PLANS AND PERMITS APPROVED FOR 3 TOWNHOUSES!
For Sale
The Luxury of Living In Harmony!
Beds:
4
Baths:
2
Car Park:
5
Beds:
4
Baths:
2
Car Park:
5